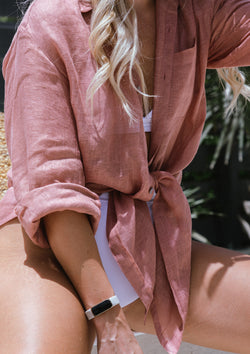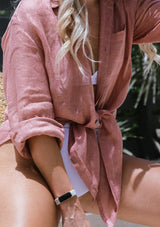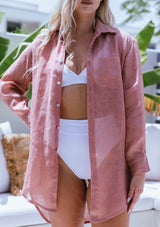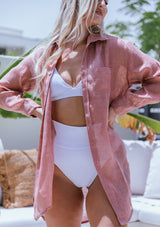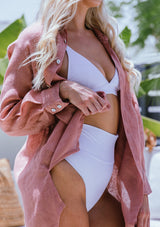 Salt Sister Swim
Riley Dress Shirt Terracotta
Our gorgeous Riley dress shirts have been named after India Logan-Riley, a Māori youth activist and conservationist in her native Aotearoa (New Zealand) . Riley and other indigenous activists are working hard to keep their lands protected against extractive industries, lands where deforestation rates are typically half the global average.
Our Riley shirt is made using the highest quality 100% pure linen gauze fabric, designed to keep you cool in the super hot climates and offering a soft light cover. While made to last, each time you gently hand wash this linen it will become even softer and your love for this piece will continue to grow. This top can be worn multiple ways and features a slightly firm collar, mother of pearl buttons and a perfectly tapered back to cover your bikini bottoms or worn over the top of your favourite dress or daytime outfit.
The only thing you will find difficult about this gorgeous top, is WHICH colour to choose? pastel peppermint, dusty terracotta or classic Bianco....